A call for the release of all imprisoned human rights defenders
April 22, 2020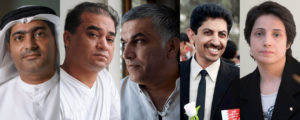 Permanent Representatives of the Kingdom of Bahrain
to the United Nations in New York and Geneva
  Permanent Representatives of the People's Republic of China
to the United Nations in New York and Geneva
        Permanent Representatives of the Islamic Republic of Iran
to the United Nations in New York and Geneva
Permanent Representatives of the United Arab Emirates
to the United Nations in New York and Geneva
                                                   21 April 2020
Your Excellencies:
As the COVID-19 pandemic spreads, we the undersigned, winners of the Martin Ennals Award for Human Rights Defenders, are calling for the release of all imprisoned human rights defenders around the world, who are at tremendous risk due to the virus. We add our voices to the calls of international leaders, of hundreds of civil society organizations and thousands of mobilized citizens, to grant clemency towards vulnerable prisoners during this health crisis, including our fellow award-winners who are imprisoned for their defense of human rights in four countries:
The Martin Ennals Award was created in 1992 as a partnership between ten of the world's leading human rights NGOs, with the objective of recognizing exceptional human rights defenders at risk. Since that time, our network has grown to include over 60 defenders in more than 20 countries. We are all committed to using our voices, our organisations, and our networks to ensure human rights abuses are brought to light.
Today we are deeply concerned about the continued imprisonment of defenders across the world, despite their exposure to and high risk of contracting COVID-19. Numerous health authorities and human rights organisations have denounced the risks of COVID-19 for prisoners held in crowded conditions.[i] Their susceptibility to the disease is higher given the impossibility of social distancing, lack of access to medical care, and poor hygiene common in detention centers. While governments have a duty to provide for the health and security of detained populations, COVID-19 could spell a death sentence for many prisoners.
UN High Commissioner for Human Rights Michelle Bachelet implored governments in March 2020 to "release every person detained without sufficient legal basis, including political prisoners and others detained simply for expressing critical or dissenting views." Though she was not specific, we are directly addressing our demand to the People's Republic of China, the United Arab Emirates, the Kingdom of Bahrain, and the Islamic Republic of Iran, where Martin Ennals defenders are held.
Despite the tragedy of lives lost and significant economic damage, we believe this crisis will also present opportunities for a better world. Now is the time to remedy the unjust detention of these individuals. By releasing our brothers and sisters – Ilham, Ahmed, Nabeel, Abdullah, and Nasrin – the leaders of your nations would demonstrate their capacity for mercy and responsibility.
We therefore call on your government to free our fellow Martin Ennals Award winners immediately, as well as all human rights defenders in detainment, so that their physical integrity is ensured, and they can receive appropriate medical and psychological support.
 Signed:
Huda al-Sarari
Yemen, Laureate 2020
Norma Librada Ledezma
Mexico, Finalist 2020
Sizani Ngubane
South Africa, Finalist 2020
Abdul Aziz Mohamat
Sudan, Laureate 2019

Eren Keskin
Turkey, Finalist 2019
Marino Córdoba
Colombia, Finalist 2019
Mohamed Zaree
Egypt, Laureate 2017
Karla Avelar
El Salvador, Finalist 2017
Asmaou Diallo
Guinea, Finalist 2015
Adilur Rahman Khan
Bangladesh, Finalist 2014
Mona Seif
Egypt, Finalist 2013
Bahrain Center for Human Rights, Finalist 2012
Arnold Tsunga
Zimbabwe, Laureate 2006
Clement Nwankwo
Nigeria, Laureate 1996
Cc: Martin Ennals Jury members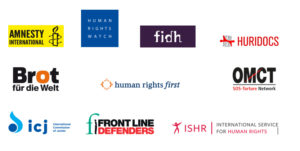 [i] For example, the International Red Cross has warned of the risks of COVID-19 for prisoners: https://www.icrc.org/en/document/protecting-prison-populations-infectious-disease?utm_source=twitter . For human rights policy guidance on prisoners, human rights defenders, human rights and COVID-19 more generally, please see the following resources: OMCT (https://www.omct.org/files/2020/04/25784/omct_covid19_prisonsresponse_en.pdf), ISHR (https://www.ishr.ch/sites/default/files/documents/protecting_human_rights_in_times_of_covid-19_0.pdf), and the FIDH: https://www.fidh.org/en/region/Africa/covid-19-states-bear-direct-responsibility-for-the-health-of ; Human Rights Watch: https://www.hrw.org/news/2020/03/19/human-rights-dimensions-covid-19-response ; Amnesty International: https://reliefweb.int/report/world/human-rights-defenders-we-need-them-more-ever-states-worldwide-must-protect-human; Civil Rights Defenders: https://humanrightsdefenders.blog/2020/04/10/policy-response-from-human-rights-ngos-to-covid-19-civil-rights-defenders/
Read the letter in Spanish: Carta MEA prisioneros v.e