It takes a village to protect defenders
June 22, 2021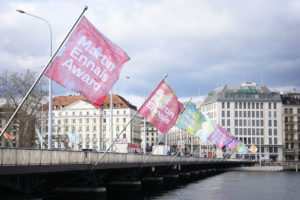 Martin Ennals Flags on the Genevan Mont Blanc Bridge, 2021
Cristina Rendon joined the Martin Ennals Foundation (MEF) almost a year ago as programme officer, with the goal of expanding the range of support available to human rights defenders (HRDs) recognized by the Martin Ennals Award. She manages the Martin Ennals Defenders Network and coordinates the Geneva Residency, a program designed to amplify the impact and reduce the risks associated with human rights defenders' work.
Taking advantage of the many avenues that Switzerland and international Geneva have to offer HRDs, MEF develops a unique program for each Finalist with training, advocacy and personal development opportunities during the awardees' stay in Geneva around the time of the Award ceremony. But in 2021, everything turned upside down. Partly because of COVID-19 restrictions on travel and movement, but also because of the personal situations of our Finalists. What could have been a catastrophe, however, has given rise to new horizons. Cristina shares this inspiring journey with us. 
An impossible encounter
When I started my new job, I was so looking forward to meeting the 2021 Finalists to the Martin Ennals Award. Their journey sparked my admiration and desire to support them through the Geneva Residency.  
However, the three 2021 Finalists shared an unfortunate commonality that led us to reinvent our mission. None of them were able to hear directly about their nomination to the Martin Ennals Award, none of them were able to attend the Award Ceremony where the Jury highlighted their unwavering commitment to fundamental freedoms. And this wasn't only because of COVID-19. Yu Wensheng is imprisoned in China and deprived of his fundamental rights. After three years in a Saudi prison, Loujain AlHathloul remains silenced and subject to a travel ban. In hermetic Turkmenistan, Soltan Achilova keeps reporting undercover but faces an almost impenetrable firewall to access the outside world, not to mention a travel ban.
Reinventing our mission
How then could we share the Geneva Residency opportunities with three absent awardees? And how to spread the word about their work when their families had hardly heard from them in recent months? After much reflection we decided that if we could not hear the awardees' voices, we could instead hear the ones of their entourage who bravely picked up the torches. And while we could not support our Finalists directly, we could extend our activities to their networks in the topics of:
digital security
fundraising
personal care and well-being
connections with the academic sector
advocacy and awareness raising
Through tailored support, the Martin Ennals Foundation contributes to the sustainability of the organizations, campaigns and networks that support human rights defenders. We help them better equip themselves to face the challenges of persecution or digital attacks. Finally, we ensure that their situations and the causes they defend continue to receive the attention of political and diplomatic spheres, as well as from the public. 
The importance of the defenders' entourage
Those months of joint work with the entourages highlighted how important it is to support not only human rights defenders but their closest circles as well, made up of incredibly brave and committed individuals. Farid Tuhbatullin and the Turkmen Initiative for Human Rights are at the forefront of providing a platform to Soltan Achilova and other activists in Turkmenistan. In China, Xu Yan is relentlessly fighting against the arbitrary detention of her husband, Yu Wensheng. And in Saudi Arabia, Loujain AlHathloul can count with the unwavering support of her family, particularly Lina AlHathloul who is the primary spokesperson of the #freeloujain campaign.  
There is a saying that "it takes a village to raise a child". The lesson learnt is that it also takes a village to defend human rights and support those who defend them.
Cristina Rendon