On 17 December 2013, Dr. Eyad El-Sarraj, Palestinian psychiatrist and Commissioner-General of the Palestinian Independent Commission for Citizens' Rights, passed away in Gaza.
In November 1998 Dr Eyad Rajab El Sarraj was awarded the Martin Ennals Award for Human Rights Defenders and during his acceptance speech he said, "Receiving this award reminded me of one of the persons I left behind in prison. He said to me: 'Don't forget me… please… don't forget me.'"
Dr Eyad Rajab El Sarraj was an internationally renowned Palestinian psychiatrist and human rights defender. Best known for his psychiatric work in the Gaza strip, he founded the Gaza Community Mental Health Programme. El Sarraj's career has spanned more than 40 years and he is internationally admired for his relentless advocacy for the rights of his native-Palestinian community.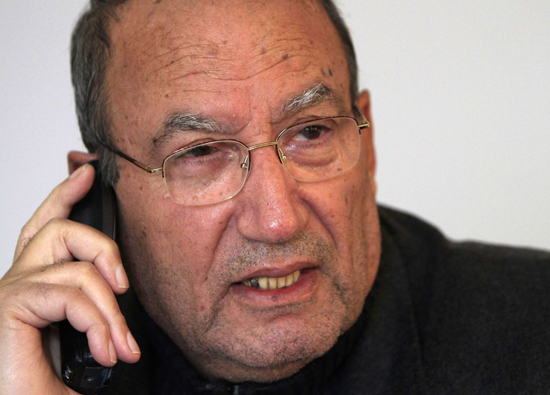 Born in 1944 in Beersheba, Palestine, Eyad El Sarraj moved with his family to Gaza from his hometown during the 1948 Arab-Israeli war.
Following the 1948 war, Gaza came under Egyptian
control as thousands of refugees flooded the region. During his childhood Eyad would witness the psychological ravages of his difficult environment – a swelling population trapped in a foreign land without the opportunity of return. The state of hopelessness, violence and oppression deeply marked Eyad's early years and would later become the source of his inspiration to devote himself as a defender of human rights.
Despite all the deterrents, Eyad excelled in school and went on to study medicine at Alexandria University in 1963.
After receiving his Bachelor of Medicine and Bachelor of Surgery in 1971, he returned to Gaza, which was now under Israeli occupation. He immediately began working in pediatrics at Shifa Hospital in Gaza, and in psychiatry at Bethlehem Mental Hospital in the Israeli-occupied West Bank.
He would later earn a degree from the University of London's Institute of Psychiatry, only to move back to Israel and work under the military-controlled Department of Health. Between 1981 and 1988 he was director of Mental Health services.
In 1990, after working as a research fellow at Oxford University's Refugee Studies Programme, he founded the Gaza Community Mental Health
"Receiving this award reminded me of one of the persons I left behind in prison. He said to me: 'Don't forget me… please… don't forget me.'"
Programme, which still exists to this day. Its headquarters were sadly destroyed by Israeli bomber-planes on 30 December 2008, in an assault in the Gaza strip.
"Leaving your home in the refugee camp in Gaza at 3 a.m.," describes El Sarraj his daily life, and "going through road-blocks and checkpoints to do the work that others won't and returning home in the evening to collapse in bed for few hours before getting up for the following day."
Back in Gaza during the 1990s, El Sarraj became a staunch critic of both Israeli occupation and the newly formed Palestinian Authority (PA). He was imprisoned three times between December 1995 and June 1996 for criticising the PA. During his imprisonment he was tortured and held for long periods in solitary confinement.
After receiving the Martin Ennals Award 1998, El Sarraj continued to advocate for human rights in Palestine, and would openly criticise the PA – eventually leading Yasir Arafat to order his arrest in early 2001. El Sarraj was however able to stay in hiding until the order was dropped.
During the 2006 Palestinian elections El Sarraj was the leading candidate for the National Coalition for Justice and Democracy (Wa'ad), however losing out to majority takers – Fatah and Hamas.
In 2010, El Sarraj received the Olof Palme Prize for his "self-sacrificing and indefatigable struggle for common sense, reconciliation and peace between Palestine and Israel".
Dr El Sarraj continued his work as a
psychiatrist, educator and social advocate and was most recently in 2009 an expert witness in the UN fact-finding mission into Operation Cast Lead, providing evidence that of widespread Post Traumatic Stress Disorder amongst children in the Gaza strip.
His evidence proved vital to the completion of the famous Goldstone Report.