Coming up for air in Bangladesh
September 27, 2021
An interview with Adilur Rahman Khan
Adilur Rahman Khan is a key figure of the human rights movement in Bangladesh and across the globe. A Finalist of the Martin Ennals Award in 2014, he is the founder and Secretary of Odhikar, a leading human rights organization in his country, former Vice-Chair at Forum-Asia and Secretary General at FIDH. A source of inspiration for other activists in Asia, he participated in many campaigns for democracy and freedom in the region, and relentlessly denounced the common practice of enforced disappearance and extra-judicial killings by law-enforcement agencies. His commitment has made him the target of endless harassment from the Bangladeshi authorities. Read on about how this human rights champion has built resilience to harassment and supports other defenders to do the same.
________________________
You are a prominent lawyer

and human rights activist

.

Wh

at made you

choose to study law

in the 1980s

?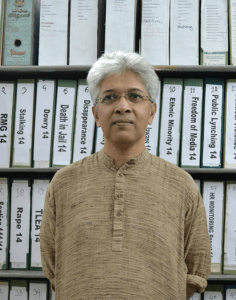 Doing something other than achieving justice has never been an option for me. As a youngster, I witnessed oppression in my country and my family had always been involved in the fight for justice in Bangladesh. This upbringing encouraged me to study law and to support those who needed rights and justice.
It is the same reason that made me found Odhikar in 1994, together with other activists. Odhikar means "Rights" in Bangla, but as a matter of fact, we wanted to get more than "rights", we wanted to obtain justice. This struggle is continuing and Odhikar is today a network of about a hundred human rights defenders. 
You were a Finalist for Martin Ennals Award in 2014. What was your personal situation and the one of Bangladesh back then?
My nomination for the Martin Ennals Award was a welcome recognition at a time where the situation was volatile in Bangladesh, and my personal situation was precarious too. It was a welcome recognition, since I had been subjected a few months earlier, to a harsh arrest followed by a brief period of enforced disappearance, which ended thanks to the relentless efforts of my family and Odhikar and the precious support of many international organizations. I was finally granted bail a few months before the Martin Ennals Award Ceremony. These events occurred following a report published by Odhikar on dozens of extrajudicial executions. Both my colleague Nasiruddin Elan and I were framed with criminal charges for sharing such information under the Information and Communication Technology Act (ICT Act) of 2006 (amended in 2009). An Act that has since been amended several times and that became the primary repressive instrument in the hands of the Government to silence the opposition and the dissenters.  
In 2016, you said that Bangladesh was facing the most repressive situation since the independence.  Have conditions for democracy and freedom of expression evolved in Bangladesh since then?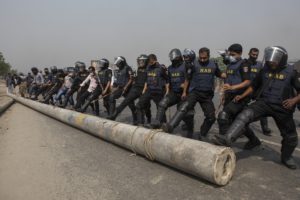 I was unfortunately wrong. Five years later, the situation is even worse and completely suffocating. We have entered an era of even more draconian repression where any voice from civil society is considered criminal and where enforced disappearances, extrajudicial killings and torture are common practice (see the latest Human rights watch report "Where no sun can enter"). In 2018, the already very repressive ICT Act got an even worse companion called the Digital and Security Act and over 3.5 million "political opponents" have been charged under these Acts and under other laws. Most of them are ordinary citizens who were arrested simply for liking, sharing or commenting on a Facebook post or writing a critical statement on the government. Self-censorship has become an increasing trend and there no longer is any viable political opposition in place or strong civil society to dissent. Popular perception is that Bangladesh is one of the poorest countries in the world with the most emigration. Many believe that it is economic migration that pushes thousands of Bangladeshis to emigrate. It is in fact mostly the crack down on our freedoms and the persecution that makes people seek asylum far away from home.  
The international community doesn't pay much attention to the human rights situation in Bangladesh. What are the reasons of this lack of interest?
Bangladesh is in some ways a replica of what some Central American countries were in the 1980s: a country governed by an authoritarian and repressive regime but which, because of its collaboration with Western major powers, escapes international attention and criticism. Over the last decade, our country has become a laboratory for the War on Terror. Human rights violations are constantly being perpetrated on a large scale, but in a deafening silence, while Bangladesh is also ironically a member of the UN Human Rights Council.  
In this tricky context, is Odhikar still able to operate?
Odhikar is still operating, but under delicate circumstances. We are under close surveillance. Our cell phones are tapped, and we must constantly counter smear campaigns by state sponsored or pro-regime media. The NGO regulatory body, the NGO Affairs Bureau, refused to renew Odhikar's registration and our bank accounts have been frozen. In this context, our work has only becomes harder and the survival of the organization is at stake — but will it stop us fighting for a just, peaceful and democratic Bangladesh? The answer is no. We simply operate differently, with the support of the human rights defenders and members of victims' families.  
How does this situation affect you and your family?
I'm not the only one under scrutiny. My family members are too. Plainclothes police officers follow them and the cell phone of my wife, who is a law professor, is tapped as well. It is a difficult situation for my family, with only few freedoms left: the only walks we can take are on the roof of our building. It is especially difficult for our sons, who should be able to live their youth without worrying so much. But our situation is like that of most activists in Bangladesh now and we are fortunate to have the support of many friends around the world to hold on to.  
You are now also facing trial before the Cyber Crimes Tribunal in Dhaka. What could be its outcome?
The case for which my colleague Nasiruddin Elan and I have appeared in court on 12 September 2021, goes back to May 2013, when Odhikar reported on dozens of extrajudicial killings of civilians during a protest, by law enforcement agents. We were both granted bail in 2013 and our lawyers filed a petition before the High Court Division of the Supreme Court challenging the case and the trial. Now, the case is being reviewed again after our appeal was dismissed. We could be sentenced to 7 years in prison for publishing a report on Odhikar's website. However, I want to remain confident that justice will prevail. 
In 2021, you participated in the peer coaching programme launched by the Martin Ennals Foundation. What did this experience bring to you on a personal and professional level?
The Martin Ennals peer coaching programme showed that even if we, the human rights defenders, are all working in different environments, it is for a similar cause. To achieve our common goal, solidarity and information-sharing are instrumental. Through the peer-coaching, I was able to learn different realities, from defenders in Cambodia and Russia. It was reassuring to get their expert opinion on the intense crackdown in Bangladesh. We agreed that Bangladesh was the "most suffocating place!".  
Is there a message you would like to share?
To the international community, I would like to say: please, stop rolling out the red carpet for our despotic rulers. We urgently need international attention and support to help us in restoring democracy, dignity, rights and justice in Bangladesh. However, while we need international support to achieve such, the spark must come from the inside. To my fellow citizens I would like to say that we are enduring hardships, but we can't let go and we must keep fighting for our dignity. I bear the hope that soon, a similar movement to Black Lives Matter will arise in our country. A peaceful, young but powerful grassroots movement that will make the winds of positive change blow. 
________________________
Watch Adilur's film portrait