Jury of the Martin Ennals Award honours Father Stan Swamy (1937-2021)
May 30, 2022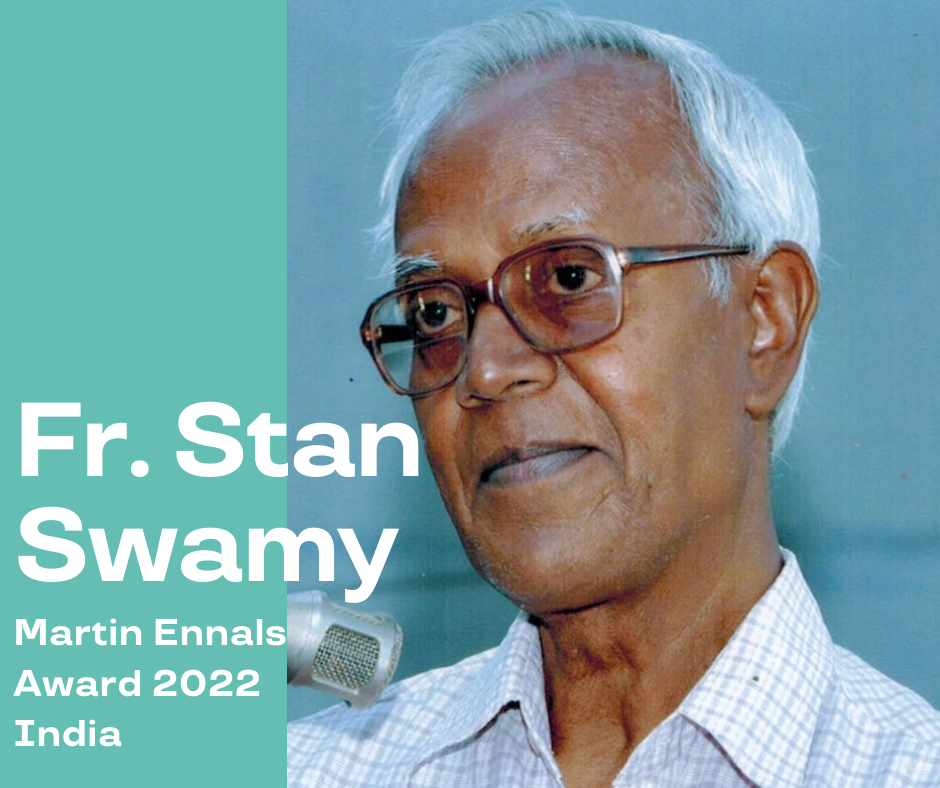 The Martin Ennals Foundation announced today that a special, post-humous homage will be made to Father Stanislas Swamy during the 2022 Martin Ennals Award Ceremony, next June 2nd at 18h CET.
Father Stan (1937-2021), as he was better known, was a Jesuit priest and activist who founded several organizations to promote human rights in Jharkhand state, India. He dedicated much of his work to advance the rights of Adivasi communities – indigenous tribes of India who are known as forest dwellers and protectors of the environment. He advocated for empowering the Adivasi communities to claim the rights to their land and legitimize their cultural heritage and knowledge.
"Father Stan was nominated to the Award in spring 2021, but he sadly passed away before it could reach him," says Chair of the Award Jury, Hans Thoolen. "The Jury wished to shine a light on Father Stan's many contributions to human rights, which cannot be eclipsed by his unjust incarceration by Indian authorities."
Father Stan was arrested under the Unlawful Activities Prevention Act (UAPA) on October 8, 2020, for his alleged links to the Bhima Koregaon violence, which he vehemently denied. At the age of 83 and suffering from Parkinson's disease, Father Stan had difficulty eating and drinking in prison. Repeated requests for his release to medical care were denied by the Mumbai High Court. He spent 9 months in jail until May 29, 2021, when his condition became critical and he was finally transferred to a hospital. Father Swamy passed away on July 5 at the age of 84.
The Martin Ennals Foundation and Jury invite the broader public to join us next June 2nd at 18h CET (and online) for a celebration of Father Stan's legacy.