Join the #IAM Campaign!
January 27, 2021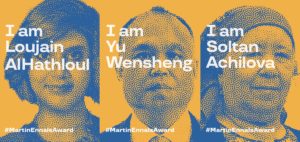 Three brave human rights defenders are the Finalists of the 2021 Martin Ennals Award. They fight for different causes, in different countries, but are united by their desire for a better, more just world:   
Loujain AlHathloul

 is a leading feminist activist in Saudi Arabia. She has been detained and tortured for advocating for basic rights for Saudi women: The right to drive and operate without male guardianship. 

 

 

Yu Wensheng is a lawyer fearlessly defending the rule of law and the access to fair justice in China, a country known to frequently deny it. He is currently imprisoned and deprived of medical care. 

 

Soltan Achilova is an independent reporter in Turkmenistan. Despite

the threats and

strict

surveillance

, she keeps

reporting on the human rights abuses in here country. 

 

 
Right now, they need your support! Join our #IAM campaign and say loudly and proudly, #IamLoujain, #IamYuWensheng, and #IamSoltan.   
Three Steps to support the #MartinEnnals #IAM Campaign for #HumanRightsDefenders:  
Download & Print the #IAM posters from our website: Loujain AlHathloul, Soltan Achilova or Yu Wensheng

 

 

Show

your support by taking a selfie with the Finalist's poster of your choice

 

Post your selfie on your preferred social media page with any of the following hashtags #WeAreAllHumanRightsDefenders #ProtectDefenders #OurRights #MartinEnnalsAward or share it with us by email (

media@martinennalsaward.org

)

 

 
Thank you for taking a stand for Loujain, Soltan and Yu Wensheng!  
The Martin Ennals Foundation