Pierre Claver Mbonimpa is a Burundian human rights defender known for his defense of prisoners' rights and relentless condemnation of torture.
In December 1994, while working as police officer in Burundi, Mbonimpa was arrested and sentenced to two years imprisonment on false accusations.
Two years of torture and ill-treatment left its mark on Mbonimpa, so much so that following his release, he created the Burundian Association for the Protection of Human Rights and Detained Persons (APRODH).
The APRODH works on monitoring and denouncing human rights violations, mainly torture, sexual violence, and gender-based violence.
The APRODH has for years campaigned on-behalf of prisoners awaiting trial in Burundi's overcrowded jails. According Mbonimpa, there is a 300% rate of overpopulation in Burundian jails, a figure which he describes as "deplorable".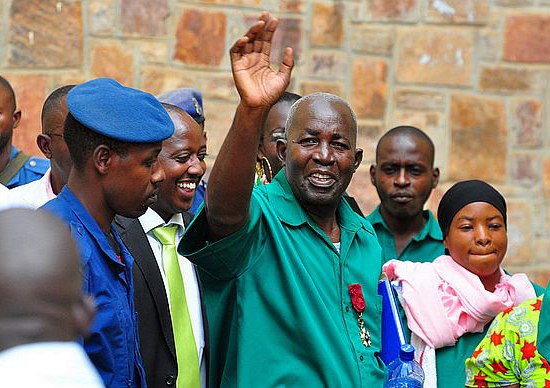 The APRODH has a strong community presence and provides legal and social assistance to victims of human rights abuses.
Mbonimpa's and the APRODH's chief work has been against the practice of torture.
Over the years, the APRODH has systematically filed complaints on behalf of the victims against known torturers. Subsequently, by 2010 the use of torture in Burundi has decreased by 90% since the APRODH began its work in 1994.
Several former high-ranking Burundian military and police officers are now in jail for having practiced torture.
Mbonimpa, says that "it is the first time in the history of Burundi that a colonel has been imprisoned for practicing torture."
During his prison visits, Mbonimpa documents first-hand, cases of torture by prison guards. The APRODH has gained such respect that they now have open access to all of Burundi's prisons.
Despite having received death threats over the years, Mbonimpa continues to criticise the government and denouncement of public officials involved in human rights abuses.
"If an evil befalls you, that you do not want, don't do it to others."
Mbonimpa was given the 2007 Martin Ennals Award. Shortly afterwards he was asked to speak on behalf of all human rights NGOs at the Human Rights Council to convince the UN to keep Burundi monitored.
Mbonimpa strongly believes that it is the political elite that has, since Burundi's independence in 1962, manipulated an uneducated and illiterate population into believing in an ethnic discord between the Hutu, Tutsi and the Twa.
"The problem that plagues the country," said Mbonimpa during a speech at the 2010 Oslo Freedom Forum, "is not ethnicity, but politics."