Only a year after publishing a collection of his newspaper articles entitled Dungeon of Ghosts (1999) Akbar Ganji, a former member of the Islamic Revolutionary Guard Corps turned investigative journalist, had become Iran's public enemy number one. His book exposed Iran's leading political figures at the heart of a conspiracy which had liquidated many of Iran's intellectuals, writers and dissidents.
He would soon be arrested and after five years in prison, including a near death experience brought on by a 60-day hunger strike, Ganji is now not only free but one of Iran's most prominent political dissidents.
Ganji received the Martin Ennals Award in 2006 and has since earned the accolades of more than a dozen international journalism, human rights and pro-democracy awards.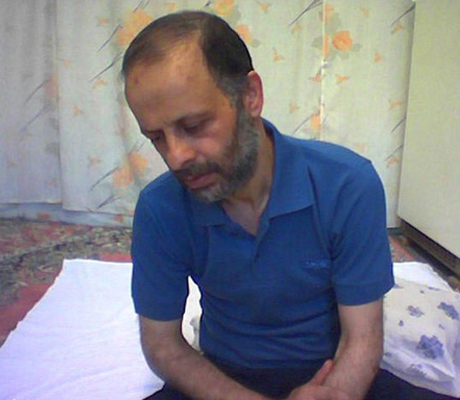 In the mid-1990s, as post-revolutionary Iran stagnated, Ganji grew disillusioned with his post at the Ministry of Intelligence and turned to journalism. His investigations would inspired a metamorphosis, as he quickly became one of the leading critics of Iran's clerical rule.
His 1999 publication Tarik khaneye Ashbah (Dungeon of Ghosts) exposed a secret 'intelligence mafia' at the heart of Iran's ruling regime.
Akbar Ganji on hunger strike in 2005
It detailed the involvement of senior religious figures, most notably former intelligence minister Ali Fallahian and former Iranian president Hashemi Rafsanjani, in the serial murders of over 200 Iranian writers, intellectuals and dissidents.
Ganji investigations not only uncovered the dark side of Iran's clerical rule, but quickly earned him the ire of the regime as one's Iran leading intellectual opponents. His book would go on to be an international best-seller, thus denting Rafsanjani's reputation and contributing to conservative defeat in Iran's February 2000 parliamentary elections.
His defining impact on the 2000 elections put Ganji on the world map and in April 2000 he was invited to the Heinrich Böll Institute to speak at a conference entitled "Iran after the election".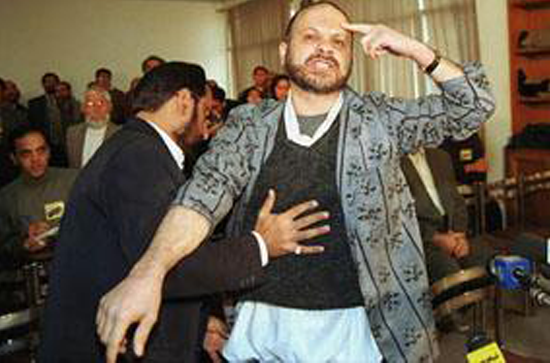 Upon his return to Iran, Ganji was arrested on 22 April 2000 and detained in solitary confinement, beaten and tortured for 80 days. As his illegal imprisonment continued, he was eventually sentenced on 13 January 2001 to 10 years'
imprisonment plus another five years' internal exile.
Hope, however, was on the horizon and on 14 May 2001, an appellate court in Tehran reduced his sentence to 6 months.
Despite having already served a year in prison, he was not released. The Justice Department had challenged his appeal and inevitably Iran's Supreme Court overruled the appellate court's decision.
On 16 July 2001, he was sentenced to six years imprisonment on charges of "collecting confidential information that harms national security" and "spreading propaganda against the Islamic system".
Rather than hiding in defeat, Ganji grew inspired. Tehran's Evin prison became his pulpit and he began writing again. His articles were smuggled out of prison and eventually spread across the internet. In March 2002 he wrote his famous Republican Manifesto, a six-chapter proposal for a democratic Iran, calling for the boycott of all elections in the Islamic Republic. Three years later – on 29 May 2005 – he was conditionally released for medical treatment brought on by the hunger strike he began ten days early. As he continued to starve himself, he would eventually be sent back to prison on 11 June 2005.
News of Ganji's hunger strike quickly captivated the world as the international human rights community increased its pressure on Iranian regime for his release.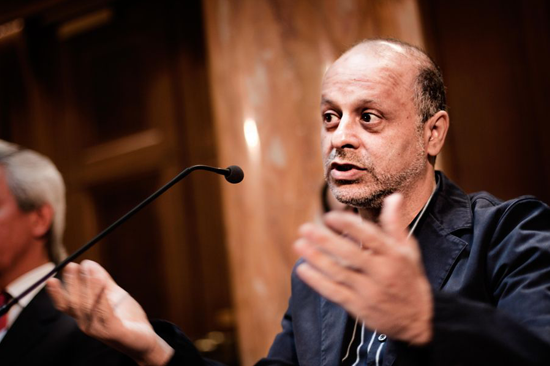 After a 60-day hunger strike, 22kg lost, Ganji was rushed to hospital in critical condition, thus ending his hunger strike.
On 18 March 2006, Ganji was released after being "granted leave for the Persian New Year". Iranians rejoiced, however Ganji would eventually leave Iran in June 2006.
Ganji's self-sacrifice, inquisitive spirit and uncompromising belief in a democratic Iran have led him into the shadowy depths of Iran's totalitarian regime. Now in exile, Ganji continues to raise awareness about the struggle for democracy in Iran and makes clear that this should be done by peaceful means ("We should put away the militaristic outlook. The U.S. should start talking about disarmament, nuclear disarmament, of the region.")
He is the author of two best-sellers Tarik khaneye Ashbah (Dungeon of Ghost, 1999) and Alijenob Sorkhpoosh va Alijenob-e Khakestari (Red Eminence and the Grey Eminences, 2000). The Boston Review and MIT Press also released his first English publication entitle 'The Road to Democracy'.