We can resist long-term detention of human rights defenders
June 28, 2022
By Brian Dooley, Senior Advisor on Human Rights, Human Rights First.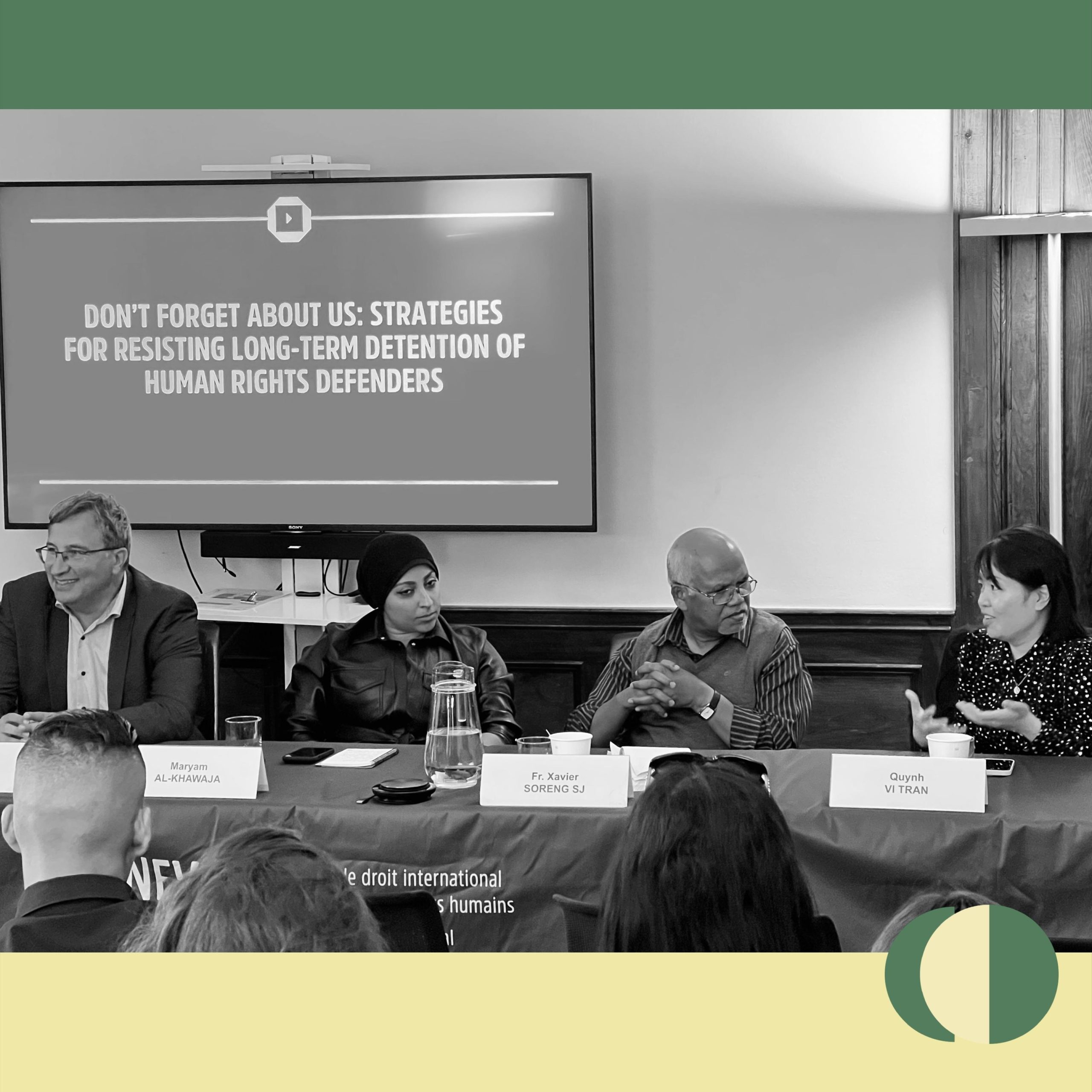 Many human rights defenders run a high risk of ending up in jail because of their activism – in the worst cases, for protracted periods of time. The UN Special Rapporteur on Human Rights Defenders, Mary Lawlor, estimated in her 2021 report that there are hundreds of defenders languishing in jail for many years, even decades.
We recently hosted a discussion about the strategies which human rights actors can employ to resist long-term detention. Here is a summary of the ideas which we can employ to counter the pitfalls of long-term detention – for example, compassion fatigue, conflicting agendas in friendly governments, and the 'rule by law' in authoritarian states. One key takeaway: while long-term detention is meant to scare other defenders, in fact, campaigning for the release of defenders in prison can inspire and galvanize human rights advocacy.
A human rights activist is arrested and jailed.
On every continent, cases of activists serving long sentences in detention cast a long shadow. Authorities misuse laws to arrest and charge human rights defenders in what is known as 'rule by law', expecting that this will scare off or censor other activists.
Strategies we know:
Act fast: quickly coordinate local organizations, family members, sympathetic governments, and international NGOs to begin the campaign for release. Channelling information to international capitals is part of the early response, not a last resort.
Together, we are stronger: Prioritize resources to support coordination between the families, local, regional and INGOs. Approaches to sympathetic governments should occur at both the local and global levels.
Strategies we're perfecting:
Better and more accessible data on detention: The OHCHR should begin a database of all cases of detained defenders, which – with the defender's consent – is open to the public and regularly updated.
Share learnings: Socializing tactics and mutual support between organizations working across regions can lead to better results.
Governments bet on the world forgetting about defenders in detention
Governments expect that the world will ultimately turn their attention to more pressing issues and 'forget' about a defender in detention. Their hope is that CSOs will run out of steam eventually and redirect their resources to new cases which have a higher chance of release.
Strategies we Know:
Keep the 'price' of detention high: Governments must be made to understand that they will pay a high 'price' – reputationally, in multilateral fora or bilateral relationships, or even economically – for detaining human rights activists. CSOs, donors, and governments must direct resources to sustain campaigns for release, so that continued press coverage occurs, trials are observed, and prison visits continued. Awards for defenders are one way of keeping up the visibility and bringing resources to campaigns for release.
Strategies we're perfecting:
Mobilize more strategically: Turn the focus back onto the governments and the charges they make against defenders, so their reputations come into question. Link detention to other issues and developments happening in the world – e.g. sporting or literary events taking place in countries which hold defenders in jail.
Compassion fatigue: it's impossible to keep up the interest on a detention case forever
The low probability of success on a case discourages friendly states from getting involved. A government's consistent refusal to release can be demoralizing.
Strategies we Know:
Make it personal: Connect the family and loved ones of a detainee to the campaign. Recruit high-profile and respected personalities to campaigns to attract greater attention.
Go for broke: Focus more resources on one case to achieve success, which can in turn reenergize more cases.
Strategies we're perfecting:
Reframe the issue: Raise the issue of torture in detention, which is often more damaging to reputations and difficult to ignore for sympathetic governments.
Double standards undermine the credibility of friendly governments
Some governments are supportive of human rights, and those who defend them, in some contexts but not in others. Their lobbying on behalf of long-term detention cases can be influenced by competing agendas for trade, access to resources, or diplomatic support.
Strategies we know:
Act local: Increase resources in support of local democratic institutions and activists.
Hold sympathetic governments to account for their friendly relations with human rights violators in the context of multilateral human rights mechanisms. Apply pressure so that human rights sanctions regimes, such as Magnitsky sanctions, are fully implemented.
Strategies we're perfecting:
Decolonize human rights systems: Apply pressure from within and outside international human rights mechanisms so double standards are not tolerated, and countries are more rigorously scrutinized on their own human rights records.
Lack of resources for long-term detention campaigns
If human rights funding is already hard to come by, it is even more so the case for activities with apparently low chances of success. In addition, some donors don't want to be too closely associated with cases of convicted activists for fear of angering host governments.
The strategy we're working on:
Make funding more coherent: Channel resources to families and local organizations, who can be vocal. Prioritize core funding which allows organizations to quickly respond to cases of detention and shifting tactics. Support Awards for outstanding human rights defenders.
Strategies we're perfecting:
Innovation without strings: Donors should redirect funding to experimental and innovative approaches, with no penalties for failure.
Donors must also be held to account by CSOs when they step away from potentially conflictual causes or cases. Human rights donors must be the first to champion that defenders have the right to defend human rights.
What we're doing isn't working
When an activist is not released, there is a sense of collective failure.
Stop doing what isn't working: CSOs should consider ceasing activities which do not yield concrete results for the most vulnerable activists. Regular evaluation of impact is necessary.
But, persistence can pay off: A strategy which doesn't pay off for years, can work when the conditions are right.
Pass on the torch: Activists who are not jailed can continue the activism, even while abroad. Some defenders also manage to continue their work from inside prison. Bringing new organizations into a coalition can bring additional resources and ideas to the campaign.
Strategies we're perfecting:
Try something new: Don't be afraid to seek innovation and make mistakes if it is in pursuit of change.
Reframe success from an exclusive focus on release, to other wins such as solidarity with the family, an improvement in conditions for the prisoner, strengthening of ties between organizations, and raising awareness of violations.
Know the limits: Honest conversations need to be happening amongst CSOs, donors, and governments about the limitations of our current strategies. The 'incrementalism' approach taken by large, transnational human rights organizations and by the international human rights system, needs an honest assessment.