Vietnam, live up to commitments to Human Rights
May 30, 2022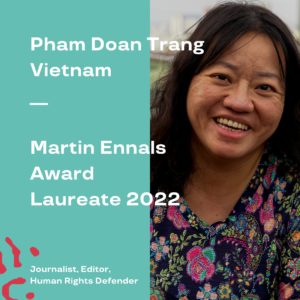 Vietnam has announced its candidacy for the Human Rights Council for 2023-2025, pledging, according to press reports, to "focus on the protection of vulnerable groups and combating violence and discrimination against them; the promotion of gender equality, especially for women and girls in the era of digital transformation; as well as addressing global issues, especially climate change." 
This  would surprise Pham Doan Trang, one of three Laurates of the prestigious Martin Ennals Award 2022  —she was detained arbitrarily in Vietnam for her activism in favor of freedom of expression and democracy in 2020. The Martin Ennals Foundation describes Trang's advocacy as peaceful promotion of a wide range of topics, from freedom of assembly, women's rights, and environmental issues.  "She co-founded several leading media outlets such as the Luat Khoa Magazine, providing political and legal analysis; the Green Trees, Vietnam's only pro-democracy, underground environmental rights organization; and the Liberal Publishing House, which printed banned books written by Vietnamese civil society leaders. Her main tool was her pen – or phone.
Pham Doan Trang is not alone. There are at least 153 political prisoners in Vietnam currently, reports Human Rights Watch, nearly all of them charged with vague crimes such as "propaganda against the state" or  "infringing upon the interests of the state under article 331 of the penal code."
The pace and severity of repression of human rights defenders have escalated over the last few years in Vietnam, justified under a legal framework that clearly violates the country's international human rights obligations. These breaches were pointed out by various UN experts, beginning with the UN Country Team in 2017, and specifically in the case of Pham Doan Trang, by the Working Group on Arbitrary Detentions in its Opinion No 40/2021.
Vietnam stands out as a Southeast Asian 'tiger': while neighboring countries attract attention for their successive political crises or poverty, Vietnam is better-known as an attractive destination for investment or tourism. Pham Doan Trang's case is emblematic of the weakening thesis that economic development brings democratic freedoms.  The human rights situation in Vietnam continues to degenerate despite the country's increasing engagement with the global economy. The success of Vietnam's branding efforts has been to make us forget it is an authoritarian, one-party state with limited freedoms.
Trang's case is expected to be heard on appeal any day now –though, to be clear, Vietnam's judiciary does not have a strong record of independence or overruling government persecution. It is unlikely that she will be exonerated or even given temporary respite despite the growing concerns about her health.
Nevertheless, her family and colleagues emphasize that the increased attention to her case afforded by the Martin Ennals Award (as well as the recent US State Department International Women of Courage Award) are crucial for her and other political prisoners in Vietnam, because this attention demonstrates that they are not forgotten and that their sacrifices have succeeded in highlighting the Vietnam government's growing intolerance.
What more can be done?
It is precisely the role of the Human Rights Council to monitor and evaluate the human rights record of all States, and especially so of any candidates (and of course Members) to the Council. Criticizing this record, and offering recommendations for improvement, is  not incompatible with political engagement—in fact, as the UN Sustainable Development Goals make clear, commitment to the rule of law and human rights are an essential component of State obligations.
Vietnam should be held accountable to its international human rights obligations and must immediately release Pham Doan Trang and all political prisoners like her. The legal framework used to ensnare them must be reformed to comply with international standards. And Vietnam should be pressed to cherish and protect civil society and human rights defenders in Vietnam, all the more so if it wants to have a seat again at the Human Rights Council.
Saman Zia-Zarifi – Secretary General, International Court of Justice