Human Rights in Berlin
September 16, 2021
This year,

the

Human Rights Film Festival Berlin

(HRFFB)

focus

ed

on

stories of activists, human rights defenders and humanitarian aid workers

to highlight 

the theme

"The Art of Change".

The Martin

Ennals

Foundation

was

proud to partner with

this important event

and celebration

of human rights defenders

, together

with former Awardees, Board and Jury Member

s

from the Martin

Ennals

Foundation.
L

oujain

Al

Halthoul

, Patron of the Festival 2021
Who else than the world-famous Saudi women's rights activist Loujain AlHathloul, to be the ambassador of human rights defenders as change makers?  A Finalist to the Martin Ennals Award this year, AlHathloul was also elected patron of the HRFFB 2021 edition.  Unfortunately facing a travel ban, it is her sister Lina who represented her at the festival. She delivered a powerful speech at the opening ceremony, followed by the screening of the Sundance awarded film Sabaya, on the courageous mission to free Yazidi women enslaved by ISIS fighters in Iraq. Lina AlHathloul recalled her own sister's struggle to gain equal rights for women in Saudi Arabia. You can watch her speech here:
She also took part in several panel discussions about human rights in Saudi Arabia, associated with screenings of the film The Dissident, a documentary on the  brutal murder of Saudi journalist Jamal Kashoggi. 
Addressing minority rights in Mexico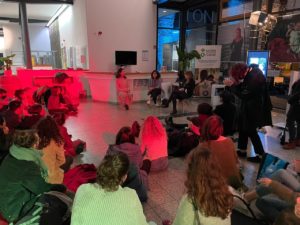 Minority rights were also in the spotlight at HRRFB 2021, with a focus on Mexico, where the indigenous rights movement is coming of age. The 2018 documentary La Vocera tells the story of how a Mexican woman indigenous leader – Marichuy – ran for President as part of a broader strategy to raise awareness and mobilize communities to embrace their struggle for equal rights, dignity and sustainable development in Mexico.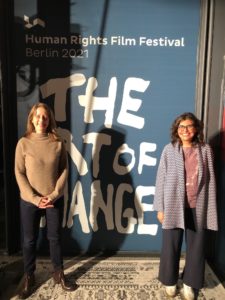 The screening of this must-see documentary was accompanied by a panel discussion with 2014 MEA Laureate and Board member Alejandra Ancheita, founder of ProDesc, and our Jury member, Silke Pfeiffer from Brot für Die Welt. Silke underscored the intersectionality of the challenges and vulnerabilities faced by women leaders like Marichuy : "Indigenous women leaders are simultaneously representatives of an ethnic minority in Mexico, as well as a vulnerable group because of their gender, as well as a marginalized class because of their geography and lack of opportunities for education, health and economic opportunity." 
Storytelling as a focus
Both the Martin Ennals Foundation and the Human Rights Film Festival Berlin believe that human rights stories can make a difference and shape lasting change in our societies. By sharing the story of human rights champions, we pay tribute to the heroes of our modern times, and we invest in our future by inspiring others to take on the torch of human rights. 
____________________ 
You can watch the festival's film programme on Sooner and follow the HRFFB online on Facebook, Twitter, Instagram or YouTube.